If you love the actress below, you'll surely like this drama even before watching it.
Time travel romance dramas are a thing now, but not this one.
This drama's time travel has a solid premise. 'Go Back Couple' has set a solid premise with a laid-back style. Its plotline resembles the Manhwa 'Do it one more time'.
This KBS2 drama aired on Friday, October 13, fulfilling the slot previously occupied by 'The Strongest Deliveryman'.
'Go Back Couple' revolves around couple Ma Jin-Joo (Jang Na Ra) and  Choi Ban-Do who are married for 14 years. Being married for long, the couple hates each other, regretting they married. After getting a divorce, the couple miraculously travels back in time to find themselves back in college as students when they first met.
The first two episodes seem to get you hooked as it is refreshing. You sympathize with the couple whose life turned they way they did not expect. Ma Jin-Joo is a housewife with very low self-esteem, while Choi Ban-Doi works hard to earn money for the family. To be a diligent worker, he becomes a pushover for his colleagues. Arguing and neglecting each other only resulted to divorce in the end.

When they find themselves back in the 90's, both seem to reminiscence about their past as they live through the college days again and try to enjoy their day while it lasts avoiding each other hoping they don't encounter each other again.
Want to have some laughs here and there? Well, supporting actor (Heo Jeong Min) plays An Jae Woo,  Choi Ban-Do's friend who is remotely funny, adding laughter to the drama. After his noticeable dramas 'Marriage Not Dating' and 'My Shy Boss'. Heo Jeoung Min has been known as a natural in comedy. His roles never seem dull.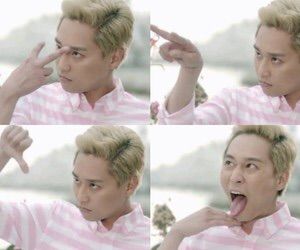 Not to mention TVXQ Yunho's cameo alongside Jang Na Ra, leaving many jaws to drop with his overflowing charisma. Although he appeared only on the second episode, he left us dreaming about him.
No drama is complete without love triangles. A possible love interest seems to be on its way. Jung Nam-Gil (Chang Ki Yong), the popular handsome guy among the girls. Even when Ma Jin-Joo rejected to date him, he continues to be very attracted to her.
On the other hand, Choi Bon- Do meets his first love Min Seo-Young (Ko Bo Gyeol) on the streets. Will he be able to win her heart over?
'Go Back Couple' is already full of surprises and an anticipated plot to unravel. Will these two be able to avoid each other? Or will fate bound them together again? So many questions to be answered.
Have you watched the first episode? Leave your comments below of your thoughts so far!
This drama airs every Friday and Saturday 10:00 pm
For more Reviews & Recommendations, please follow us on Facebook, Twitter &Instagram.
All photos inserted from URL.
Featured image courtesy of tvseries-watchonline.review
Comments